Fiska havsöring på Gotland
Fiske på Gotland
Välkommen att fiska havsöring med oss på Gotland. Kusten här erbjuder ett av Europas bästa fisken efter havsöring. Till oss kommer människor från hela världen för att prova detta fiske, både nybörjare och mer erfarna fiskare. Tillsammans med oss på Fish Your Dream maximerar du dina chanser att komma i kontakt med den storvuxna och vilda havsöringen på Gotland. Vi ordnar oftast hela paket med guidning, boende och mat, men du kan på Gotland också kontakta oss för att enbart boka en guide eller hänga på en av våra fasta turer. Vi erbjuder boende i moderna studios eller i stugor längs Gotlands kust. Kommer du som nybörjare hjälper vi dig med allt från fiskeutrustning till kastteknik och vadarbyxor.
Fisket
Var vi fiskar beror på väder, säsong och hur den senaste tidens fiske varit. Vi vadar i Östersjön och fiskar med fluga eller haspelspö. Fisket kan ibland vara lite tufft, vind, vågor och kalla vindar. Därför är det viktigt med ordentliga kläder och bra handskar för fiske. Fisket efter havsöring är populärast under vår och höst. Nedan kan ni läsa lite som de olika säsongerna för fiske efter havsöring på Gotland.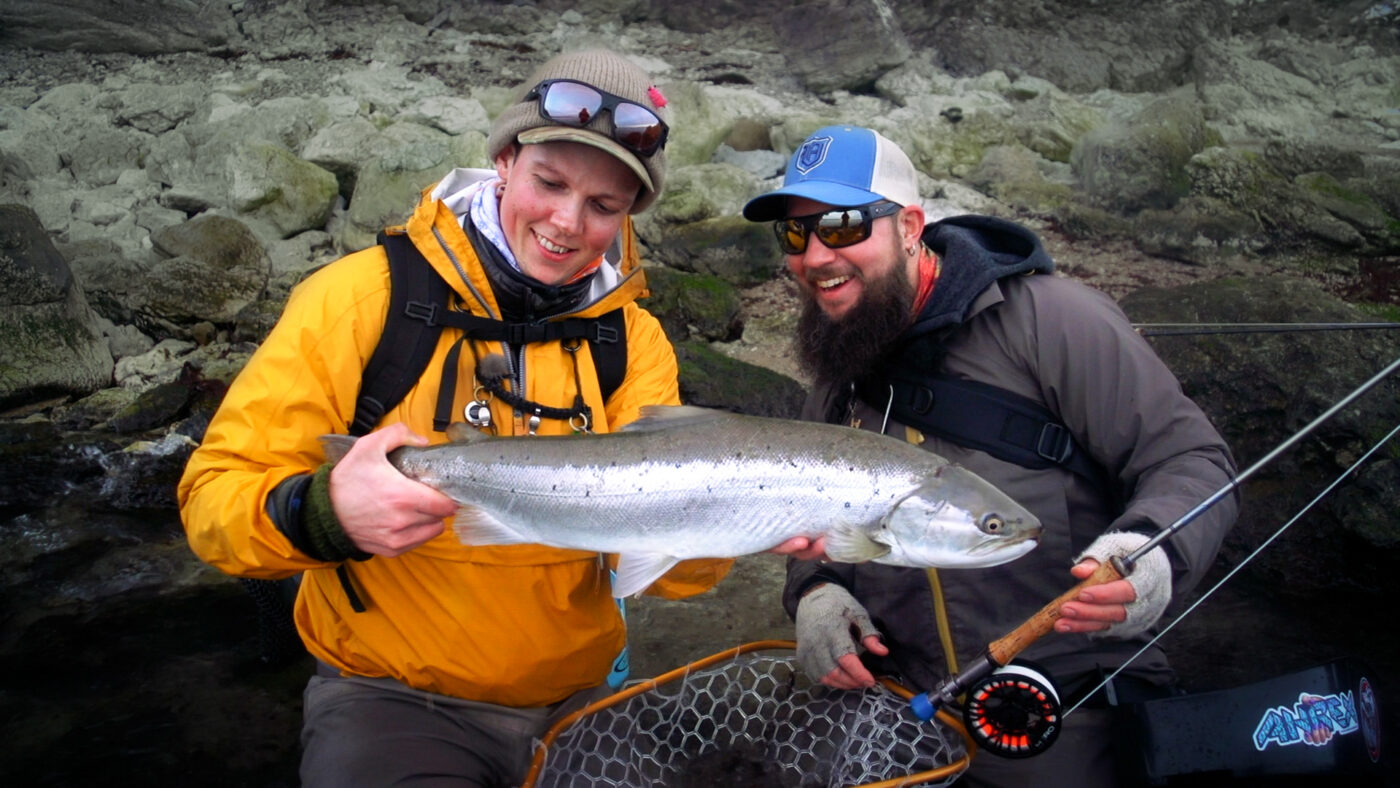 Höst
Säsongerna är oktober-december samt mars-april. På hösten är en del områden stängda för fiske på grund av leken. Våra guider hjälper er att navigera runt dessa områden och hitta fisken. Vi fiskar då främst efter den blanka fisken som hoppar över leken och som jagar betesfisk och annan föda längs pallkanterna och annan struktur. Då vattnet ännu inte blivit kallt så fiskar vi ofta i närheten av djupare vatten denna årstid.
Vinter
Det går även fint att fiska havsöring under den kallaste perioden, januari-februari. Man hittar då ofta fisken på väldigt grunt vatten nära land. Denna tid är perfekt för fiske med fluga och flytlina och en favorit bland många erfarna kustfiskare. Dagarna är korta och vädret kan vara hårt med snöblandat regn och kall nordlig vind. Om ni är intresserad av att fiska denna tid så skicka gärna ett mail så ser vi vad vi kan göra.
Vår
Perioden mars till mitten på maj är den absolut populäraste tiden att fiska havsöring på Gotland. Dagarna blir längre och chansen för fint väder ökar. Solen böjar sakta värma upp vattnet i vikar och aktiviteten på havsöringen och dess bytesdjur ökar. Här finns chans för verkligt fina dagar med stor blank fisk. Denna period bokas snabbt upp, så se till att vara ute i god tid om ni är ute efter en guidad dag med oss.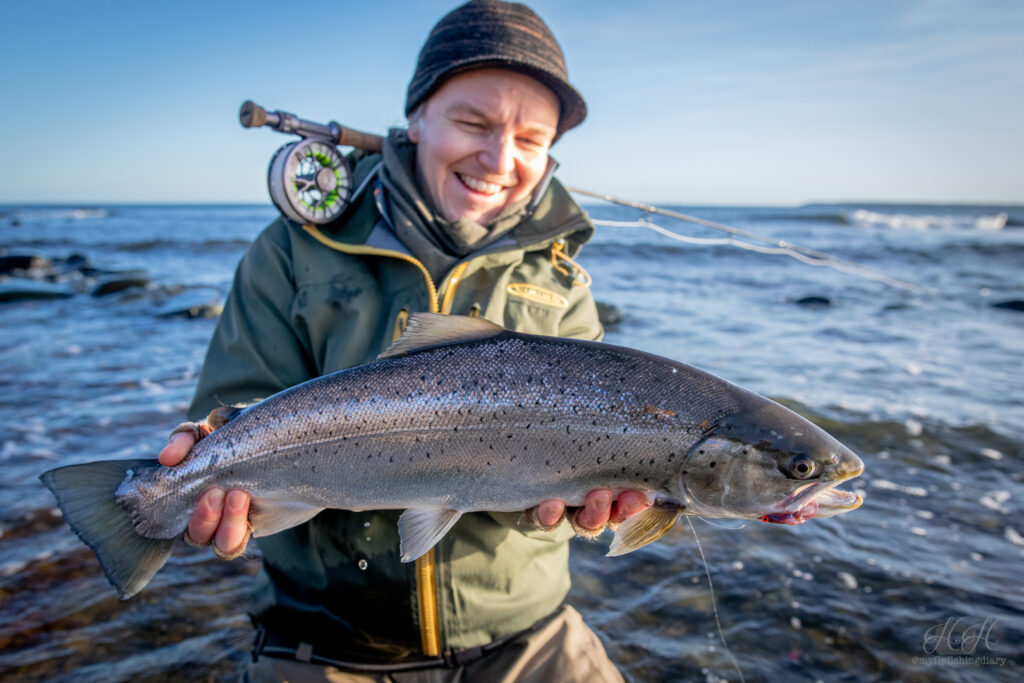 Utrustning för flugfiske
Vi fiskar med både flugspö och haspelspö på kusten. Flugfiskaren föredrar spön som är 9 fot långa i klass 7 eller 8. Till detta används flytande och sjunkande linor av olika modeller. Tafsen är ofta runt 12 fot lång och antingen av fluo carbon eller nylon. Vi fiskar med allt ifrån små märlor till större imitationer av betesfisk. Många uppskattar en linkorg som del i utrustningen tillsammans med varma och vattentäta kläder.
Utrustning för spinnfiske
Fiskar man med spinn så är ett 10 fots spö med kastvikt 10-30 gram perfekt. Till detta en haspelrulle med flätlina och en fluo eller nylontafs. Populära beten är Fladbukken och Sølvpilen. In line-beten har verkligen ökat i popularitet de senaste åren. Vare sig man flugfiskar eller fiskar med haspel så är vadare oumbärliga. Om ni behöver låna detta så löser vi det, meddela detta under bokningen.
Vi på Fish Your Dream förespråkar att du återutsätter eventuell fångst. Havsöringen på Gotland är självreproducerande och en värdefull resurs som kan skänka sportfiskeglädje flera gånger om. Surfa gärna in på vår YouTube-kanal och hämta inspiration till din kommande tur med oss!
Sea run Brown Trout on Gotland
Fly fishing on Gotland
The island of Gotland has some of the best fishing for Sea Trout in Sweden and Europe. The island has about 800 km of coast and has become a Baltic sea hot spot for sea trout fishery. The sea-run browns on Gotland are of high average weight and spawn naturally in the many Gotland creeks. Fish Your Dream helps you to get to the right spots and makes sure the whole Gotland fishing trip meets your expectations. Guiding, accommodation, meals... We fish by wading the shallow flats with fly rod or spinning rod. A guide is more or less necessary since every day we make unique decisions depending on wind, temperature, currents and gut feeling. The elusive trout is targeted in spring and fall when they are moving closer to shore and chances for a hook up is at its best.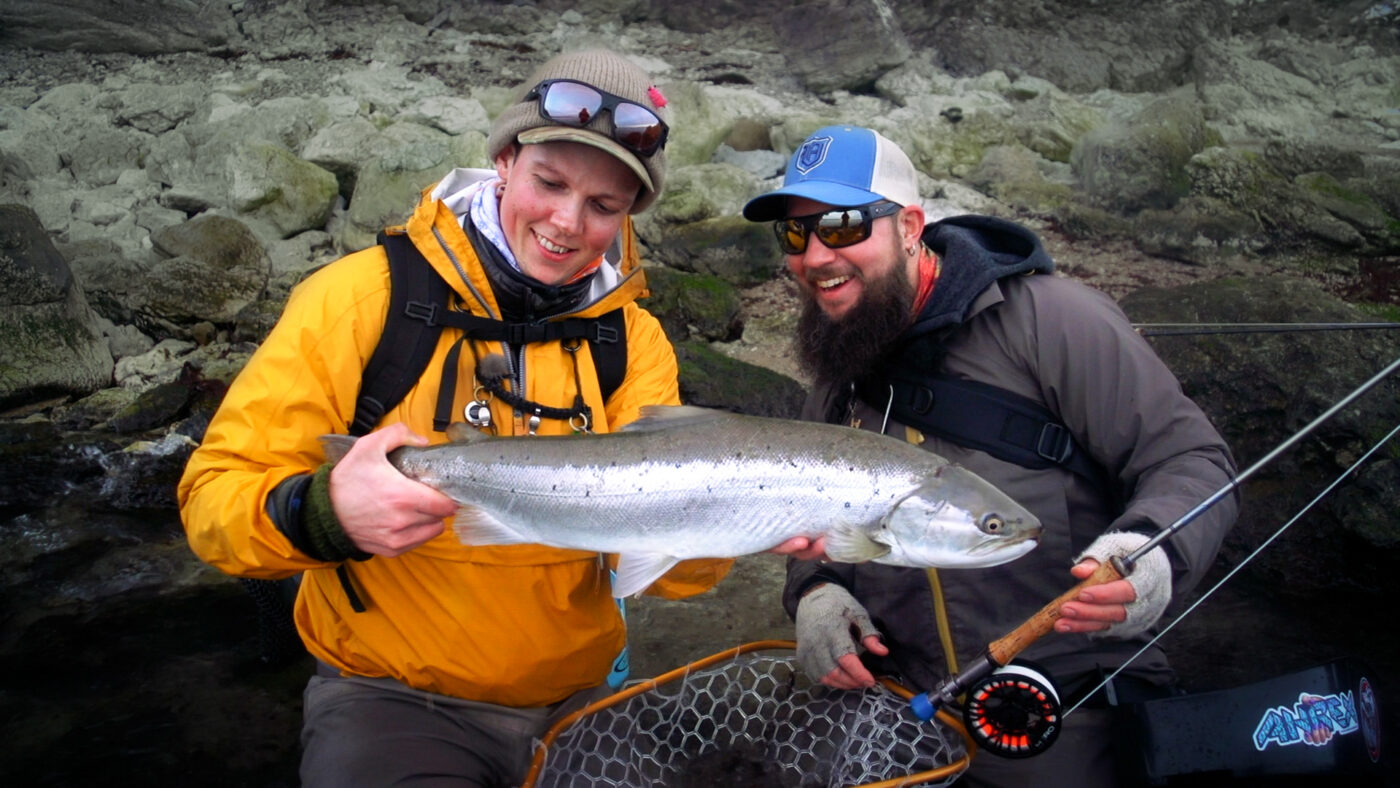 Autumn
Autumn and pre-winter season stretches from October to December. During this time the areas around the spawning streams are closed. To negotiate these areas a guide is very handy. Our main target is fish that skip the spawn and stay to feed in the sea another year. We fish near deep water and as the temperature slowly go down we find fish in close to shore. October is a favorite amongst some of our spin fishing customers and late November and early December draws some hard core fly fishermen to our waters.
Winter
Mid winter, January and February are usually the coldest months. Days are short and water temperature drops. During this period the sea run brown trout can be found in very shallow water, looking for that little bit warmer water. This period is popular by a few hard core coastal fishermen, especially fly fishers. Fishing is often done using floating lines and light hovering flies. The weather can be tough, but if you hit it right the fishing can be very rewarding. This is usually the guides time off, but if you are on the island and looking for a guide, give us a call or send us an email and we will see what we can do.
Spring
March to mid May is by far the most popular time to visit Gotland in the hunt for a big sea run Brown trout. Days are getting longer and the chance to get some ni e weather increases. The sun slowly starts to warm the water close to shore and both trout and its prey start do become more active. This period is very popular and books up early. To secure your spot, send us an email today or give is a call and we will help you.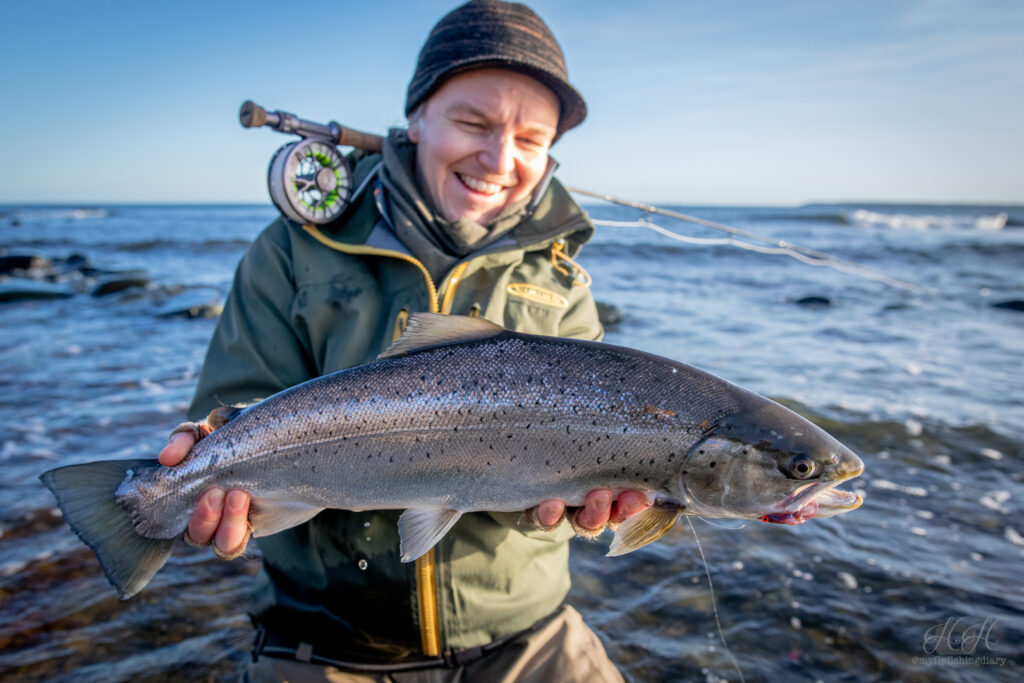 Gear for fly fishing
Both fot and spin fishing is suitable on Gotland. For fly fishing a 9 foot rod for line 7 or 8 is very popular. Floating and intermediate lines are the most popular, but a faster sinking line is every now and then preferable when fishing faster and deeper. Leader is 9-15 feet long depending on fly and weather, and some prefer fluoro carbon over nylon. Flies are everything from small nymph style flies to big bait fish flies, like flat wings. A line basket is very handy to keep the line in order, and of course a pair of Polaroid glasses. Since it can be quite cold and windy a pair of good fishing gloves are important and a good hat or beanie.
Gear for spinn fishing
For spin fishing a 10 foot rod is preferable, for a casting weight of 10-30 grams. Classic spoons and in line lures sucka as Fladbukken and Sølvpilen are popular and constantly produce big fish. The guides alway has flies and spoons with them, let them know if you want to try something new. The spin fishermen will also benefit from using waders, better access and a bonus as protection from wind and rain. If you need any gear, please let us know during the booking and well will help you.
We at Fish Your Dream are advocates of catch and release, and reccomend that all sea run browns are released. They are a self reproducing population and can give the joy of sport fishing to many people. Check out our YouTube Chanel and get some inspiration and tips before your trip with us!