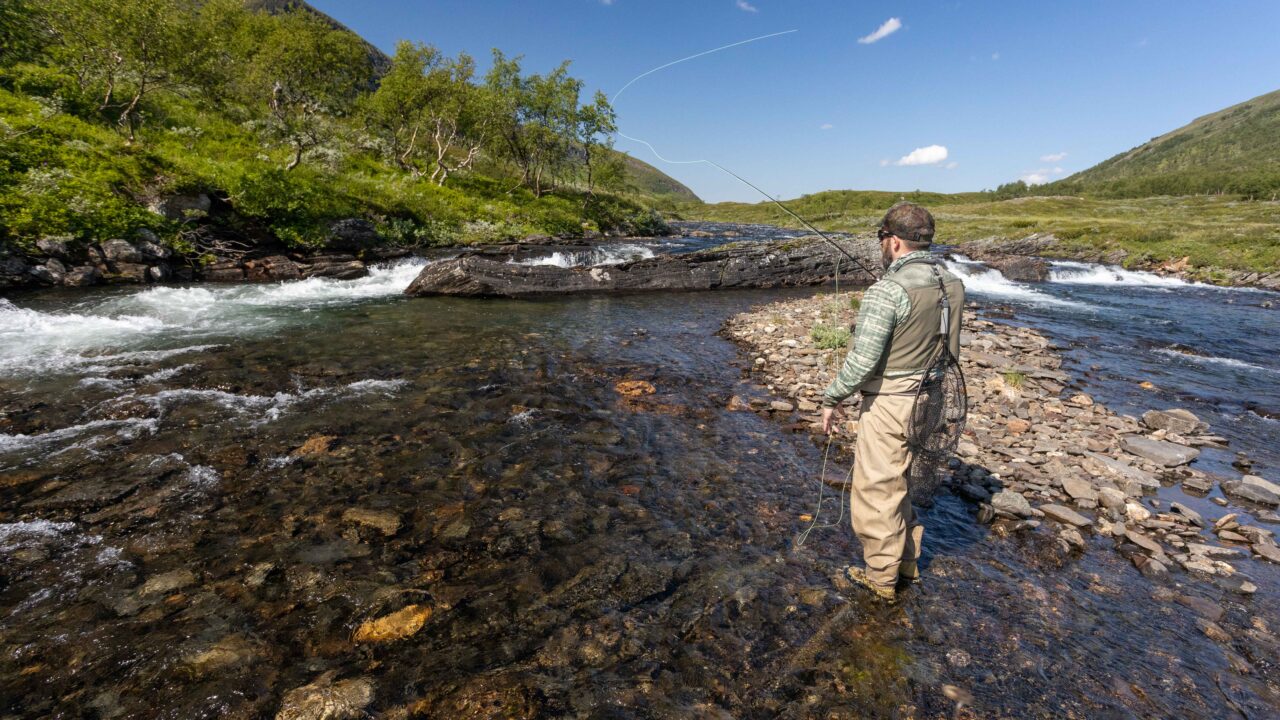 Ammarnäs – en flugfiskares dröm
Vid Ammarnäs, en liten fjällby vid vägs början, förenas Tjulån och Vindelälven. En flugfiskares dröm. Ammarnäs är porten till Vindelfjällen med ett av Europas största skyddade naturområden. Ett oändligt antal sjöar och strömmande vatten att välja på. Här flyter en av sveriges för vattenkraft inte utbyggda älvar, Vindelälven, med sin välkända storvuxna Ammarnäsöring. Här finns även fantastiskt fiske efter harr och röding, både på fjället och närmare vår anläggning. Du äter, bor och får guidning hos oss. Vår restaurang erbjuder a la carte med inställningen att servera så mycket som möjligt av råvaror från närområdet. Detta innebär att älg, ren och röding är några av de rätter du hittar på vår meny.
Ammarnäs skiljer sig från vår destination Tjuonajokk främst för att Ammarnäs når du med bil och du har närhet till civilisationen på ett annat sätt. Men även här kan du välja att flyga helikopter ut i fjället med en av våra guider för att prova ofiskade vatten som vi har möjlighet att erbjuda genom vårt samarbete med Rans och Grans samebyar. Boendet i Ammarnäs kan passa olika plånböcker, vi erbjuder vandrarhem, hotellrum eller stugor.
Ammarnäs - vivid and remote
A flyfisherman´s dream. Ammarnäs is the gate to the Vindel mountains with marvelous fishing and one of Europe´s largest protected natural areas. Ammarnäs is a small village in the north-west of Swedish Lapland. Rivers Tjulån and Vindelälven meet here. The Vindel Mountains is a pristine fishing paradise. Here, you find the famous big migrating Ammarnäs brown trout, grayling, trout arctic char and pike. Explore rivers or countless lakes and creeks, close to the lodge and far up in the mountains.
We offer accommodation, guides, meals, gear and really exciting helicopter fly outs to exclusive waters in the mountains, in cooperation with the local Sami communities. Fish waters that are hardly fished at all with us. Or why not get a stretch of Vindelälven to yourself for a few days? Ammarnäs differs from our other Lapland destination, Tjuonajokk, mainly because you can reach Ammarnäs by car, and you stay a bit closer to civilization. Fish, stay, eat and enjoy life with us in Ammarnäs!