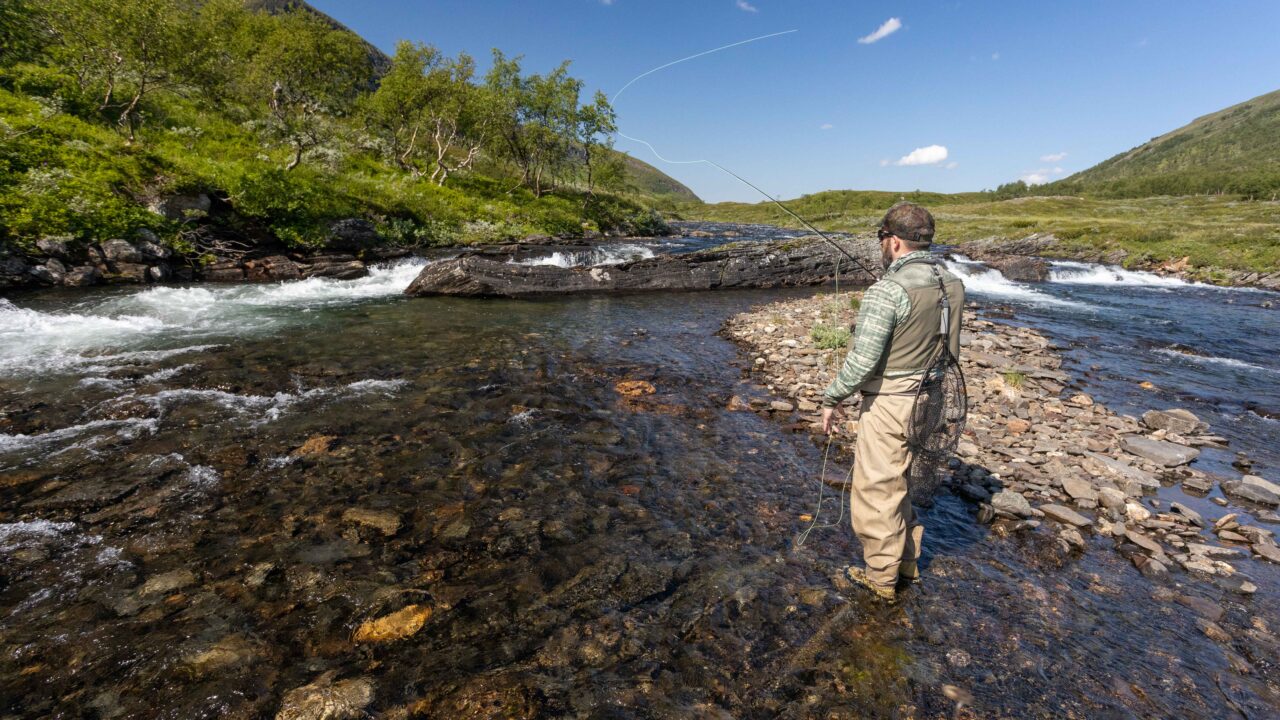 Flugfiske i Ammarnäs
Ammarnäs
I Ammarnäs finns ett mycket varierat fiske efter flera olika arter i olika typer av vatten. Det finns ett oändligt antal sjöar och strömmande vatten att välja på. Närområdet bjuder på fiske med torrfluga efter skygg öring glasklara vatten, fiske med nymf efter stor harr och fiske med streamer efter riktigt stor öring. Lägg även till möjligheten att fiske stor gädda eller kanadaröding med fluga.
Fisket
Huvudattraktionen i området är den rikskända Vindelälven med sin stora öring, Ammarnäsöringen som når vikter på upp till 7-8 kilo. Fisket efter harr i Vindelälven är också populärt och håller hög klass. I den glasklara Vindelån uppströms sjön Gautträsk finns ett spännande fiske efter mycket skygg öring, ett fiske som testar fiskarens tekniska kunskaper med torrfluga och nymf. Genom Ammarnäs rinner Tjulån, som bjuder på både utmärkt fiske efter harr och öring. Om du vill och orkar vandra ett par eller flera timmar, finns ett flertal fjällvatten att utforska med både öring och röding.
Service
Hos kan du boka en guide för att hjälpa dig med ditt fiske och spara en hel del tid. Guiderna har god lokalkännedom och kan verkligen ge dig förutsättningarna att ta nästa steg i ditt fiske. I vår restaurang erbjuder erbjuder vi frukost, lunch och middag, med inställningen att servera så mycket som möjligt av råvaror från Sverige och närområdet. Detta innebär att älg, ren och röding är några av de rätter du hittar på vår meny. Några steg från värdshuset ligger den glasklara tjärnen Akkas som håller öring upp till 60 cm.
Res till Amarnäs
Ammarnäs når du med bil eller buss/tåg, och du har närhet till matvarubutik, badplatser, dagsvandringar och andra aktiviteter. Vi erbjuder även turer med helikopter ut i fjället med guide för att fiska exklusiva vatten. Dessa har vi möjlighet att erbjuda genom vårt samarbete med Rans och Grans samebyar. Boendet i Ammarnäs passar olika plånböcker, vi erbjuder vandrarhem, hotellrum eller stugor. Välkommen på flugfiske i Ammarnäs!
Fly fishing in Ammarnäs
Ammarnäs is the perfect fly fishing destination. It has top fishing for big migratory Brown Trout, world class fishing for Grayling, and both Northern Pike and Lake Trout. The area offers sight fishing for Grayling and Trout in clear waters, nymph fishing in perfect pocket water and streamer fishing in nice pools and runs. The gate to the Vindel mountains with it´s marvelous fishing and one of Europe´s largest protected natural areas. Ammarnäs is a small village in the north-west of Swedish Lapland. Rivers Tjulån and Vindelälven meet here. The Vindel Mountains is a pristine fishing paradise. You have the opportunity to explore rivers or countless lakes and creeks, close to the lodge and far up in the mountains.
We offer accommodation, guides, meals, gear and really exciting helicopter fly outs to exclusive waters in the mountains, in cooperation with the local Sami communities. This gives you the opportunity to fish waters that are hardly fished at all with us. Or why not get a stretch of Vindelälven to yourself for a few days? Ammarnäs differs from our other Lapland destination, Tjuonajokk, mainly because you can reach Ammarnäs by car, and you stay a bit closer to civilization. Ammarnäs is best reached by car from Umeå airport. Fish, stay, eat and enjoy life with us in Ammarnäs!